Profile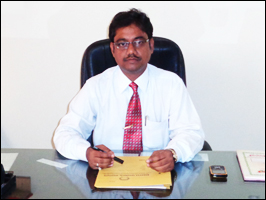 Born on
01July 1971, Er. S.K.Rai
obtained Diploma (Honours) from Institute Engineering and Rural Technology (I.E.R.T.) Allahabad, B.Tech (Honours) from IET, Khandari, Agra and M.Tech in Production Engineering from Bhagwant University, Ajmer.
During his illustrious career of academic experience includes teaching assignments at different Technical Colleges since last eight years, and four years in Thermal & Hydel Power plant at Obra Thermal & Hydel Power stations.
Director Message
It is with a great sense of pride that I welcome you to Bhaavya Technical Institute (BTI). Bhaavya Technical Institute is the synonymous with quality education. It is founded by Mata Rani Trust. Bhaavya Technical Institute builds on the foundation of the strong academic reputation built by its highly qualified faculty, state-of-the-art infrastructure, quality of instruction and active learning models. Faculties are technically well prepared, critical thinkers and can communicate effectively. The quality of our students will be acknowledged by renowned multinational companies that recruit our students. The name 'Bhaavya' signifies my effort to build an enterprise that sets new benchmarks in education. The faculty at Bhaavya Technical Institute is inspired by our vision to be known as one of world's premier educational institutions for multidisciplinary education. I invite you to join the BTI community and be a part of a journey that will be transformational.
If you are curious, adventurous, motivated and deserving, Bhaavya Technical Institute of Civil Engg., Mechanical Engg, Electrical Engineering and Computer science Engineering is designed for you. We are dedicated to providing innovative and high-quality opportunities for our students acquire the fundamental knowledge, skills and attitudes necessary for entry and success in the professional practice of these engineering. Our programs provide advanced instruction in the latest tools and technology of engineering practice. These engineers do great things for our society. Civil engineers are responsible for the infrastructure that transports goods and people; the buildings that we live, work, and recreate in; the technologies to deliver safe drinking water, manage our waste and the systems that protect us against natural disasters. In other words, civil engineers design, construct, and maintain almost every part of our communities, built environment that we live in every day. Mechanical Engineering provides students with a solid foundation in the engineering sciences and a strong grounding in practical, problem-solving skills.
Electrical Engineering provides students to understand the load distribution as well as generation of the electricity. Similarly, Computer Science Engineering will provide skills of latest technologies of these days in the field of Information Technology, Computer application, Data base management and networking to groom student with today's scenario. This combined approach, along with hands-on project experiences, makes Bhaavya Technical Institute ready and able to hit the ground running and add value from the very start of their careers.
S.K. Rai